Equine Assisted Therapy & Narrative Therapy
Acupuncture & Chinese medicine
Powerful yet sensitive, horses give us immediate feedback about our inner feelings, and at the same time accept us totally.
---
ABOUT US:
Black Horse Therapies offers a blend of Equine Assisted Therapy and Narrative Therapy. We find that these approaches make a powerful combination for helping people of all ages with issues such as anxiety, depression and stress, as well as emotional regulation and general wellbeing. Acupuncture & Chinese Medicine are also offered by a practitioner experienced in treating people with emotional issues.
Elizabeth: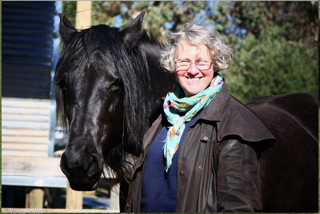 Elizabeth's interest in Equine Assisted Therapy began 6 years ago when Millie came to her and it became a dream, a passion and a goal. This led her to complete a Graduate Diploma in Counselling & Psychotherapy with the Cairnmillar Institute in Melbourne, as well as Narrative Therapy training at the Dulwich Centre in Adelaide and training in Autism Spectrum Disorder at Cairnmillar.
Her approach with horses is a natural horsemanship one. She trained with Dave Mellor of David Mellor Horsemanship in Eppalock and her placement for her Graduate Diploma took place at Horses for Hope in Shepparton, which combines natural horsemanship with a narrative approach.
Elizabeth has a background in Chinese medicine and offers acupuncture as one of the therapies provided by Black Horse Therapies.
Sammy: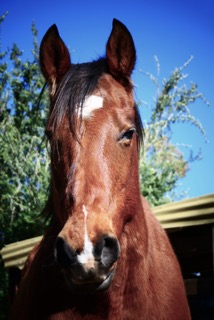 Sammy is an 18 year old Clydesdale/thoroughbred cross gelding with a trail riding background. He shows patience and tolerance in his interactions with people and is a gentle giant whose powerful build disguises his sensitive and sometimes timid nature.
Marrpi: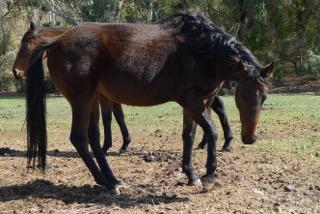 Marrpi is a 9 year old thoroughbred mare who was crippled at birth as the result of an accident. In spite of her disability she is the lead mare in our little herd and displays courage, determination and a feisty spirit.
Sunny: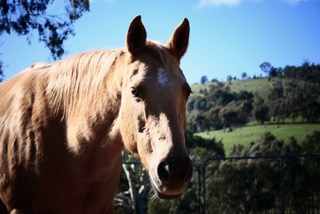 Sunny is a 20 year old quarter horse/Apaloosa cross mare who has spent her life as a riding horse. She has a gentle and quiet nature.
Pip: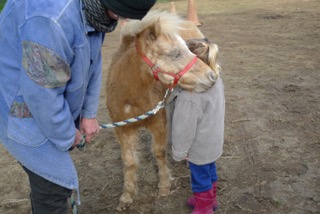 Pip is a 2 year old Palouse miniature filly, the newest and smallest member of our Black Horse Therapies herd. Although she came to us untrained she is showing intelligence and a willingness to learn. Her breeder recommended her to us because of her friendly nature. Her courage and determination are not limited by her size. She will work with small children and bigger people who are afraid of full-sized horses, at least to begin with.
Millie: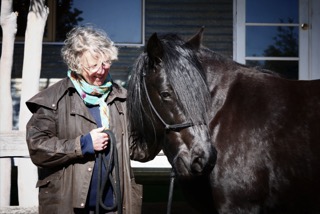 Miliie has been the inspiration for Black Horse Therapies since she came to Elizabeth as a 9-month old filly. She is a Friesian/Percheron cross, both breeds used to carry knights in armour into battle. This means that she has the qualities you'd desire from such a war-horse- strength, courage, agility, loyalty, intelligence and sensitivity.
John: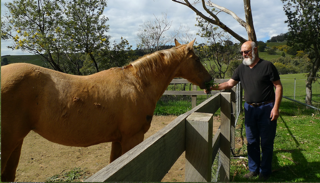 John is the farmer who takes care of fencing and pasture (and treats) for the horses.
---
MODALITIES USED AT BLACK HORSE THERAPIES:
Equine Assisted Therapy & Narrative Therapy are combined into a unique & powerful approach.
Equine Assisted Therapy:
Equine Assisted Therapy involves interacting with a horse and reflecting on these experiences together with a therapist and usually a support person.There is no pressure on the client to contribute their reflections verbally. They are free to listen quietly to the observations of the therapist and support person and their reflection may be done privately outside of the session.
Benefits:
Through the activities in the horse yard clients learn to be aware of their emotions and to regulate them. They also practise finding a place of calm in a situation which might be difficult or challenging. They do this by focusing on the horse, practising self-awareness and regulating their breathing.
The horse provides immediate and non-judgemental feedback regarding a person's inner feelings.
The skills learnt in the horseyard can then be applied to relationships with people. Abilities and strengths the person didn't know they had may be recognised and this can lead to an increase in self-worth and confidence. Concentration and focus may be improved.
Clients also practise assertiveness and leadership without aggression.
Since the therapy is carried out through activities with horses much of it is non-verbal and it works for people who find it difficult to talk about their problems, as well as young children.
Equine Assisted Therapy is used to assist people with a wide range of issues including stress, recovery from trauma (PTSD), anxiety, depression and grief, as well as difficulty controlling emotions. It is found to be particularly effective for young people who can't fit into a mainstream counselling setting and is used with those who have a diagnosis of FASD, autism & ADHD.
Children:
Even young children can benefit from Equine Assisted Therapy. It can help with concentration and focus, empathy, confidence and assertion without aggression.
People with troubled relationships can experience healing through practicing team work together with the horse.
Over and over again people say to us "Being with horses makes me feel calm".
Neuroplasticity:
It is known that early childhood trauma and neglect inhibit the development of the brain. Neuroplasticity is described as "the capacity for creating new neural connections and growing new neurons in response to experience" and this gives us hope that the experiences in the horseyard help to create new neural pathways that are helpful in other contexts.
Fun & Play:
We believe that experiencing joy and contentment are an important part of therapeutic growth for people of all ages, so we include fun and play in our programme.
Narrative Therapy:
Elizabeth's approach involves using a Narrative Therapy framework for clients to explore new possibilities for self-identity. This involves the telling and retelling of stories, before and after the time in the horse yard. A Narrative approach emphasises actions taken that reflect a person's exercise of "personal agency" (being effective in our lives) and assists them in developing preferred stories about their life and their identity. This approach is used to help people recovering from trauma.
Accupuncture & Chinese Medicine:
Elizabeth has practised Acupuncture & Chinese medicine for 30 years, the last 17 in Broadford, Victoria.
Acupuncture is an ancient system of medicine involving the insertion of very fine needles into points along channels or meridians on the body. These are the pathways through which "qi" (a type of energy) flows and the needling of the points regulates this flow.
In her practice Elizabeth has treated many people suffering with anxiety, depression and stress. All have reported that they felt calmer and had an increased sense of well-being after the treatment. She has treated people of all ages, from 6 weeks to 90 years.
For those who have an aversion to needles she uses a light stimulator or acupressure. Chinese medicine also includes other techniques such as cupping, gua sha (scraping) and massage.
Elizabeth is excited to be able to offer a combination of Equine Assisted Psychotherapy and Chinese medicine- two powerful and wonderful healing modalities.
---
WHO CAN BE HELPED?
Equine Assisted Therapy and Narrative Therapy can assist people of all ages (from very young children upwards) with:
Concentration & Attentiveness
Assertiveness, leadership skills & team work
Emotional and behavioural control (anger management)
SAFETY/AFRAID OF HORSES?
For some people the thought of interacting with a horse is frightening. Be assured that the you are in control of the amount of contact you have with the horse during your session and that Elizabeth will be present in the yard at all times. All of the work with the horses is conducted on the ground (no riding involved). Your physical and emotional safety are always our prime concern, which is why sessions are conducted in a yard. Also, we have little Pip to help you!
BOOKINGS, COST, REBATES & FUNDING
Bookings may be made with or without a referral. Call or email if you would like more information.
COST OF SESSIONS: $120 per 90 minutes.
NDIS funding available
Private Health Insurance rebates available for Psychotherapy (limited cover) and for Acupuncture.
Join Elizabeth and her horses to experience the unique & powerful combination of Equine Assisted Therapy & Narrative Therapy in a peaceful natural setting.
We are located near Kyneton, 35 mins from Kilmore, 65 mins from Melbourne airport, 60 mins from Bendigo.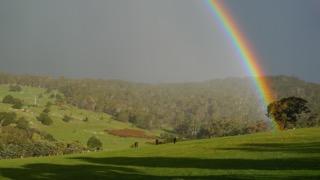 The Black Horse:
In dreams and myths from around the world, the black horse champions knowledge rejected by the mainstream: instinct, emotion, intuition, sensory and extrasensory awareness, and the human-animal partnership associated with tribal cultures. (Linda Kohanov)
---
References:
Bremner, J. Traumatic Stress: effects on the brain (2006)
Linda Kohanov: A Tribute to Tabula Rasa: Eponaquest Worldwide (website)
Michael White: Re-authoring Lives: Interviews & Essays (1995)
Siegel, D., & Bryson, T.P. The whole brain child. (2011).
Uniting Horses for Hope Programme Evaluation Report 2015
A big thank you to Digital Journey for the beautiful photos.
---
QUALIFICATION DETAILS
Graduate Diploma Counselling & Psychotherapy (Cairnmillar Institute), Level 1 & 2 Narrative Therapy (Dulwich Centre) BA (ANU), Diploma Acupuncture (Australian Acupuncture College) Member Australian Counselling Association Member Australian Traditional Medicine Association Registered Acupuncturist with AHPRA Youth Mental Health First Aid Certificate